What if marketing your local business could be completely automated? Is that even possible? Is it a good idea? Well, the truth is marketing automation software already exists today!
One example of this is our Local Business Online Toolkit which has all the tools needed to automate marketing from one dashboard. However, there are many more apps and services that can automate creating business listings, collecting online reviews, posting to social networks, and much more.
We sometimes think automation means that robots are doing all the work for us, but that is not always true. Let's take a closer look at what is available to help you automate your marketing, with a sprinkle of our own recommendations. 
Automate Business Listings
Automation Type: Software
The old fashion way of claiming and updating online building listings for your business involved manually logging into profiles across dozens of directory websites. Apps like Yext and Uberall use an API or software to automate this process and make claiming and updating your business listing easy.
There are dozens of apps available on the web that can help you automate building and syncing your online business listings. Below is a list we compiled of the most reputable and powerful business directory apps.
We didn't list Uberall because they are not available for business owners to directly purchase. Instead they are only available through agencies who resell their software like us. Uberall is a powerful listing app that will sync business information with listings across the United States, and the world.
Each listing app has a unique approach to automate building and syncing your online listings. For example BrightLocal and Whitespark will have a team manually claim listings for you then give you a list of usernames and passwords upon completion. While Yext has its own network of listings who support and integrate with their unique API.
We provide a Listing Suite that integrates three business listing products into one fully automated service. When you subscribe to our services you'll enable your business listing on our directory, and any changes to your listing get automagically synced across dozens of listings.
OUR LISTING BUILDER APP
The business data you add here will automatically sync across online listings and data aggregators. Your listing will appear in our directory and give you a place to capture online reviews, post photos and videos, and link back to your website.
Within the listing you'll be able to add pages, upload your logo, create QR codes, and track campaigns. Below is a screenshot of what the listing looks like. Make sure to visit our directory page for a peek at other business's listings.
QR CODES
Grab a QR code to use with online campaigns, add to business cards, or post on social media. Consumers can take a photo of them to visit your directory listing and learn more about your business, your hours of operation, and much more.
LISTING SYNC PRO
In addition to your business listing in our directory, you can sync your business data across other 3rd party business listings. These include Yelp, Bing Maps, Manta, Better Business Bureau and dozens more.
This product will automate marketing by making updates in one location and have them sync across the web. For example, if you need to change your business hours, or have additional photos to add, one update is pushed across each listing automagically!
Automate Social Marketing
Type: Software + Humans
Regularly posting to social media keeps your brand in front of your followers and their connections. However, posting to multiple social networks can be a chore! Logging into each platform, generating unique content, creating images and graphics for each post, are all time consuming tasks.
There are several apps available online that help automate social marketing by connecting to all your social networks, and allow you schedule future posts. Below is a list of the most popular social marketing apps.
However, to truly automate social marketing requires more than just software. We believe it requires a team of people who understand how social networks work. Together our Social Marketing App and fulfillment team are able to fully automate social marketing for your business.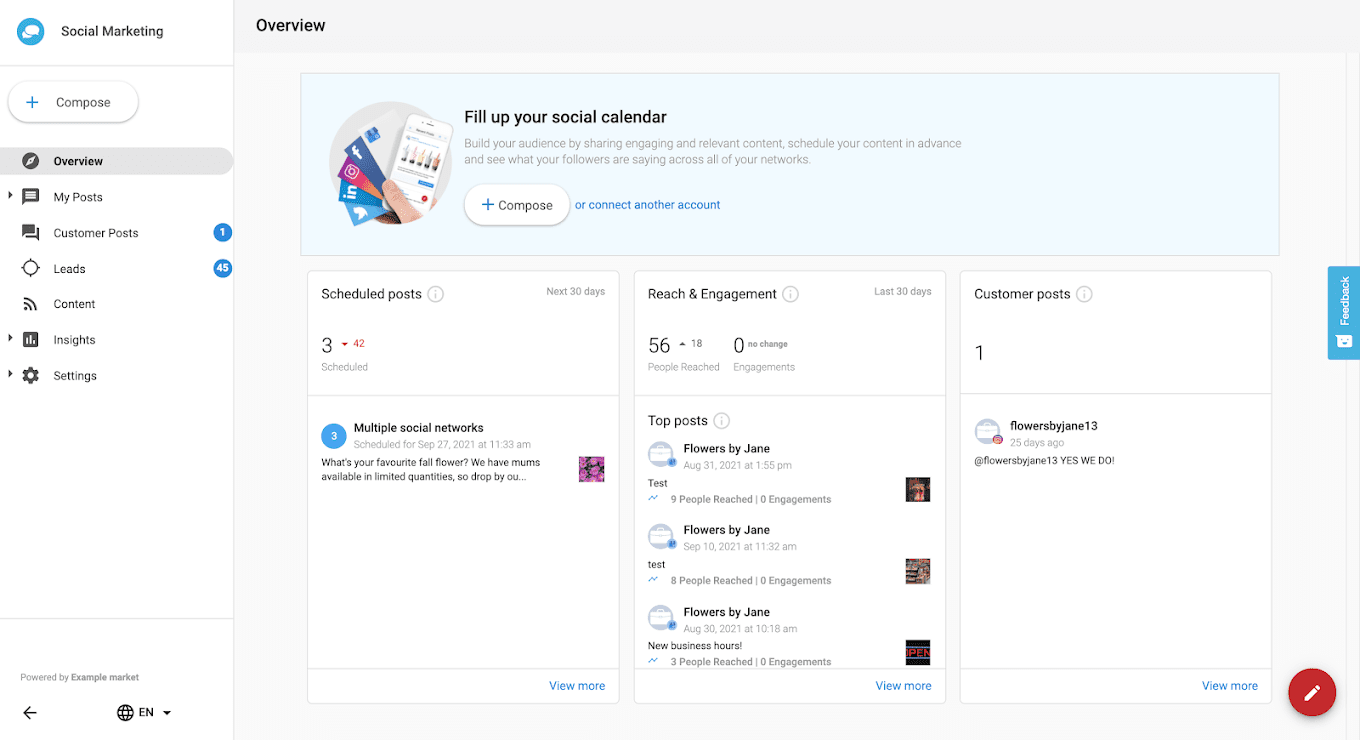 SOCIAL MARKETING DONE-FOR-YOU
Using the Social Marketing App inside our Online Toolkit, our team will fill your social media calendar with posts. Our creative writers are social media experts who will work with your business to find the right style, tone, and angle to craft social posts that promote your business.
The Social Marketing App makes this process fully automated so you don't have to worry about your business being active on social media. At anytime there's the opportunity to add your own posts or move the schedule around to better fit promotions or changes in events.
SOCIAL MEDIA AUTOMATION DONE WITH HUMANS
Having human experts react to changes on social media and cater your content to your specific audience is invaluable. Full automation comes in when posts are scheduled weeks or months in advance across all your social networks, anticipating each season and planning of future campaigns.
Automate Reputation Management
Type: Software + Humans
Automating reputation management online is a must for businesses today. You probably have experienced this whenever you've paid a mechanic for services to your car, or made a purchase online.
Usually within minutes after a purchase an email or text message appears asking for feedback about your experience. This process is completely automated and does not require any human interaction. Below is a list of reputation management apps your business can use for review requests, and review responses.
Each of these platforms enable the business owner to automate some aspect of monitoring, collecting, or responding to reviews. Our Reputation Management solution offers everything all-in-one dashboard.
AUTOMATE REVIEW REQUESTS
Using your customer list, reputation management apps and services services provide review request automation for collecting customer feedback. Our Request Reviews add-on has us reach out to your customers and gently ask them to leave a review. Your dashboard will show each request for review and the feedback given from customers.
AUTOMATE REVIEW RESPONSES
In our opinion, automating review responses takes more than just software. A few apps do exist to help automate the task of responding to online reviews. Our approach is to have review responses done by a team of humans who monitor, manage, and respond to all the reviews your business receives online. This is done-with-you, in order to keep your brand's tone, and ensure that negative experiences are handled properly.
REPUTATION MANAGEMENT DONE-FOR-YOU
We provide Reputation Management Services that are fully automated and done-for-you. Meaning, all you need to provide to us is a list of customers.
Each month we will reach out to your customers via email or text message, asking for feedback. That feedback can be left on your profile on our directory, or on a listing of your choice. We recommend Better Business Bureau.
Automate Digital Advertising
Type: Software + AI + Humans
Automating digital ads adds a level of complex data analysis to your ad campaigns. How ads are performing is a constant stream of information that AI is able to quickly process, discover patterns, and react in real time.
Automated bidding, built-in budget management, and smart optimizations allow for campaigns to be edited and optimized as they progress, making the most of your ad spend within the ad platform (e.g. Google, Facebook, Bing, YouTube, etc.). Campaigns will be optimized according to your goals, budget, and platform needs.
Let's take a look at what is available for automating your digital ads with the help of software and artificial intelligence.
AI DRIVEN AD CAMPAIGNS
Fully AI driven ad platforms can improve over time to provide the most effective ad campaigns. Platforms like those mentioned below make this possible at almost any budget.
Fully automated ad campaigns significantly improve the effectiveness of your digital ad campaigns over time. Adding a human to the equation can make that AI more effective, much quicker by reinforcing your business campaign goals, and reacting to the changes made inside the campaign. This is how we handle our digital ad campaigns.
In this post by IBM, Watson, IBM's AI, is already being used to improve the effectiveness of ad campaigns, increase personalization, and target the right audiences. It's not too late to get started with your local business.
Options to Automate Marketing
As you can see, there are so many options for fully automating your local marketing efforts. Each of the platforms mentioned may only do one aspect of your marketing, while others will require an upgraded plan that include features your business does not need.
We think the best way to automate marketing is to use a hybrid approach. Apps and software can be used to help, but real humans are needed to help. There's nuance and complexity with every marketing campaign that requires careful consideration.
It would be nice to set-it-and-forget-it, however, with an ever-changing online landscape, there will always be a place for humans and machines to work side-by-side to automate local marketing and grow your business.
LOCAL BUSINESS ONLINE TOOLKIT
To start automating parts of your marketing campaign, contact us to get setup with our Local Business Online Toolkit.