Morning Star Christian Bookstores is a retail business that has 6 locations across New England. They offer an in-store experience that needed to be captured and expressed online.
They also had need to incorporate online gift certificates and eCommerce integration. And at the end of the project, their customers were able to purchase gift certificates and and a variety of products all online.
Using eCommerce best practices that included adding content to category pages, and using internal links to help users discover new products, I was able to make their website a wonderful online shopping experience. 
Powerful eCommerce website
Despite Morning Star's hesitation, and their choice of a proprietary point-of-sale system, I was able to help them deploy an eCommerce website.
Their integrated eCommerce enabled a host of features like:
Managing inventory through a

 

mobile app
Mobile check out through mobile app
Sell on Facebook,

 

Instagram, Amazon, and eBay
Customer grouping

 

for tax exempt and non-profits
Gift cards for online orders
In-store pickup options
And many more features and customizations.
Connected data
As part of my content management system's connected data, each store location has all its information stored in a central database.
That connected data allows for easy updates to store information like their hours of operation, phone numbers, and other critical information. This then feeds the location pages for each of their 6 stores.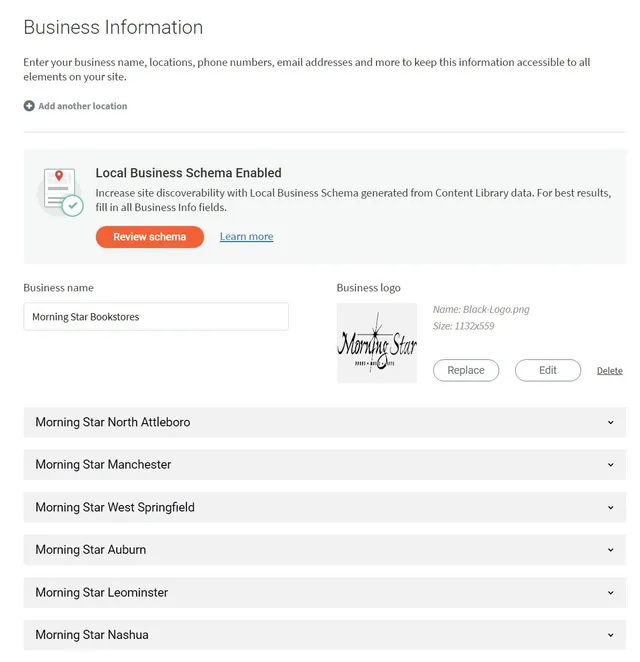 This results in local business schema being created for each location, which can help Google and other search engines understand the context of the store's physical location.
This connected data also allowed each location page to have accurate contact information embedded directly into the page. If and when the business location needed to change its hours or contact information, the customer can change the information in one place and it will automagically update their schema markup and location page instantly.
Questions?
Please let me know if you have any questions regarding this project, or how I can help you build a powerful eCommerce site for your business.