Air Fresh Cleaning Systems wanted to grow their customer base and reach a local audience. This presented an opportunity to use location based personalization triggers on their website. Giving visitors different engagement options based on their location, their device, and much more.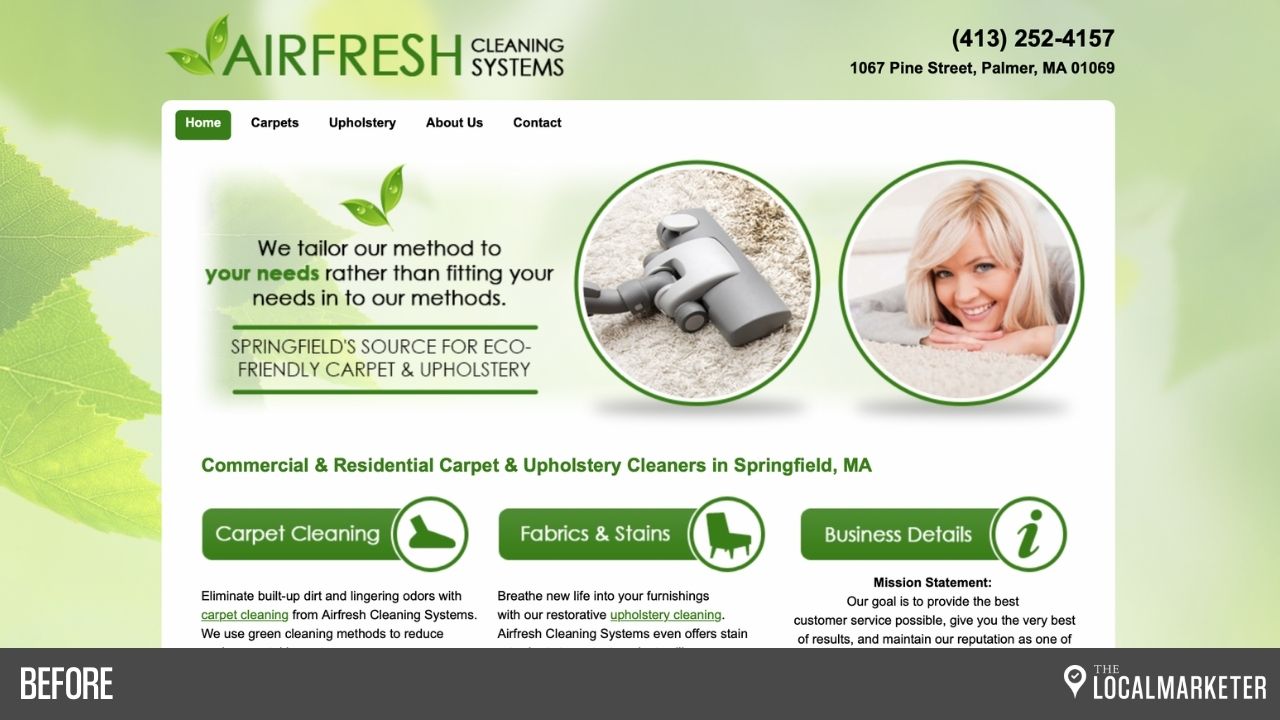 Adding to the personalized web experience I included a local SEO campaign. This enabled Air Fresh Cleaning Systems to attract visitors from across Western Massachusetts. Drawing customers for a wide range of carpet cleaning related search terms.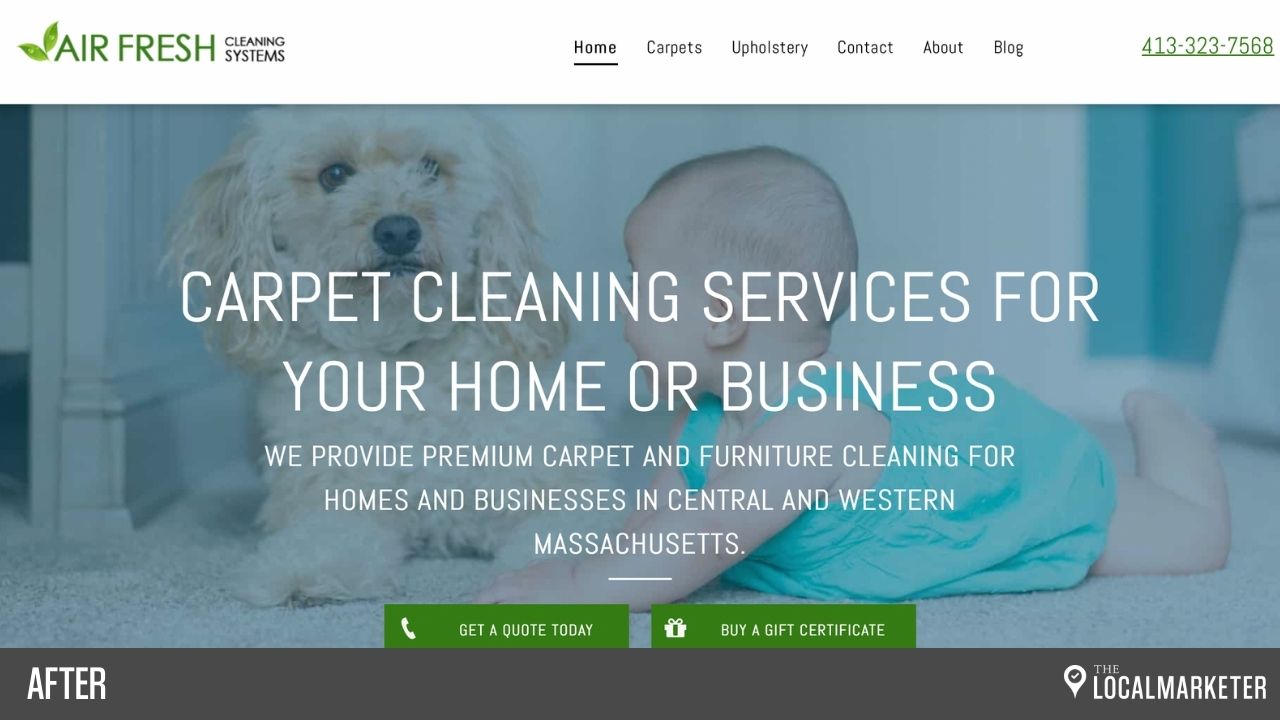 Website Personalization
 A personalized web experience for visitors allows a business to offer something unique. The offering comes based on their device type or location. And will help engage the visitor and turn them into a customer.
The screenshot shows visitors on mobile devices near Springfield, MA see a coupon. A different offer shows for visitors from Amherst, MA.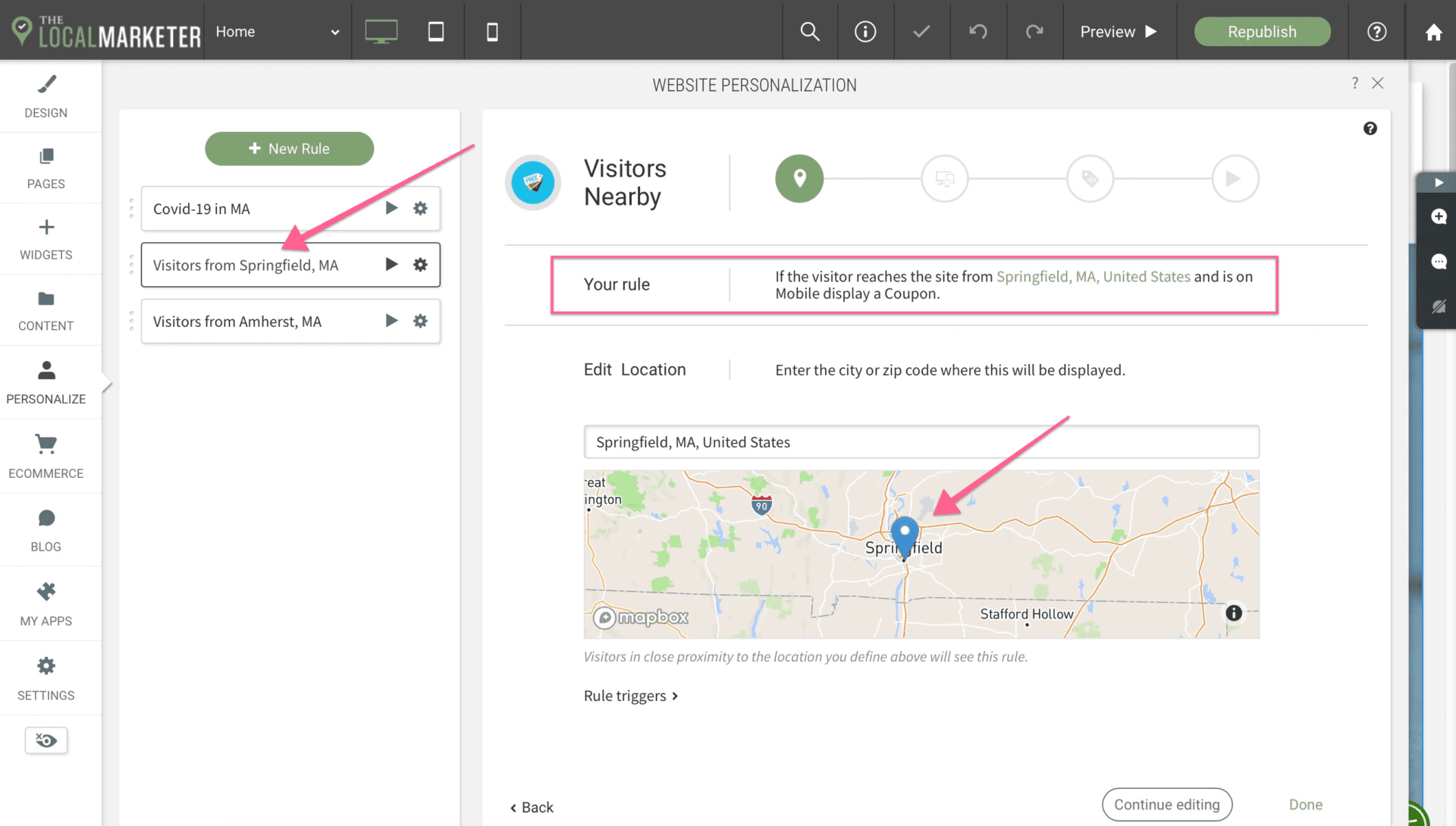 What about visitors from other locations? They won't see the unique offerings. Instead they will see the default web page. This allows for special offerings for a unique audience to be special, and not for everyone.
Improved Impressions and Clicks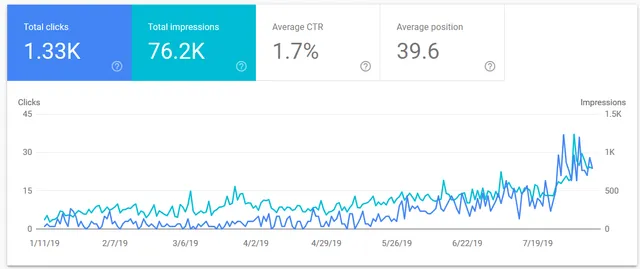 The screenshot above is from Google Search Console showing about 6 months of growth in organic impressions and clicks. The project began in January of 2019 by designing a conversion-focused website. Followed by a local SEO campaign to grow their local organic web traffic through Google.
The first goal was to make sure their website was mobile friendly, fast, and filled with relevant copy. The site needed to satisfy, or meet, local search intent. Since Air Fresh is an established business the changes had an instant impact on web traffic.
Are impressions good for a local business website? The short answer is yes. Here is why they are good. Google defines an impression like this;
"A link URL records an impression when it appears in a search result for a user. "
When your website appears in Google's search results, it is good thing because it means your site is considered by Google a good resource that answers the query of the searcher.
Are clicks better than impressions for a local business website? Oh yes! Clicks are always better! However, you cannot get clicks without impressions. In order to earn more clicks through Google, you'll have to increase those impressions, especially ones that happen on the first page of those search results.
Benefits of Being a Reputable Company
As an established carpet cleaning business in Western Massachusetts, Air Fresh Cleaning Systems has a tremendous reputation with their customers. You can see that from the image below which shows their 5 star average from all their online reviews.

Despite having a great reputation online, their web traffic was not increasing even after spending thousands on paid ads. So I began to investigate where improvements could be made to their website.
Improving Calls-To-Action
During the redesign of their website, the question of what type of call-to-action would be easiest for their customers to engage in without making a commitment. George, the owner of Air Fresh, shared that his customers;
…like to research their options and get a sense of pricing before committing to a purchase.
Knowing this, I thought it best to provide visitors with a simple form as soon as they arrive which allows them to reach out and ask questions within the first 5 seconds. Asking visitors to schedule an appointment would likely deter them from asking more questions.
Website Made for Mobile Users
For mobile users, who make up over 60% of their traffic, filling out a form is not so easy. Instead, I personalized their experience by providing mobile users with a unique experience by adding a Call Us Button to make it super easy for visitors to call from their phone with a single click.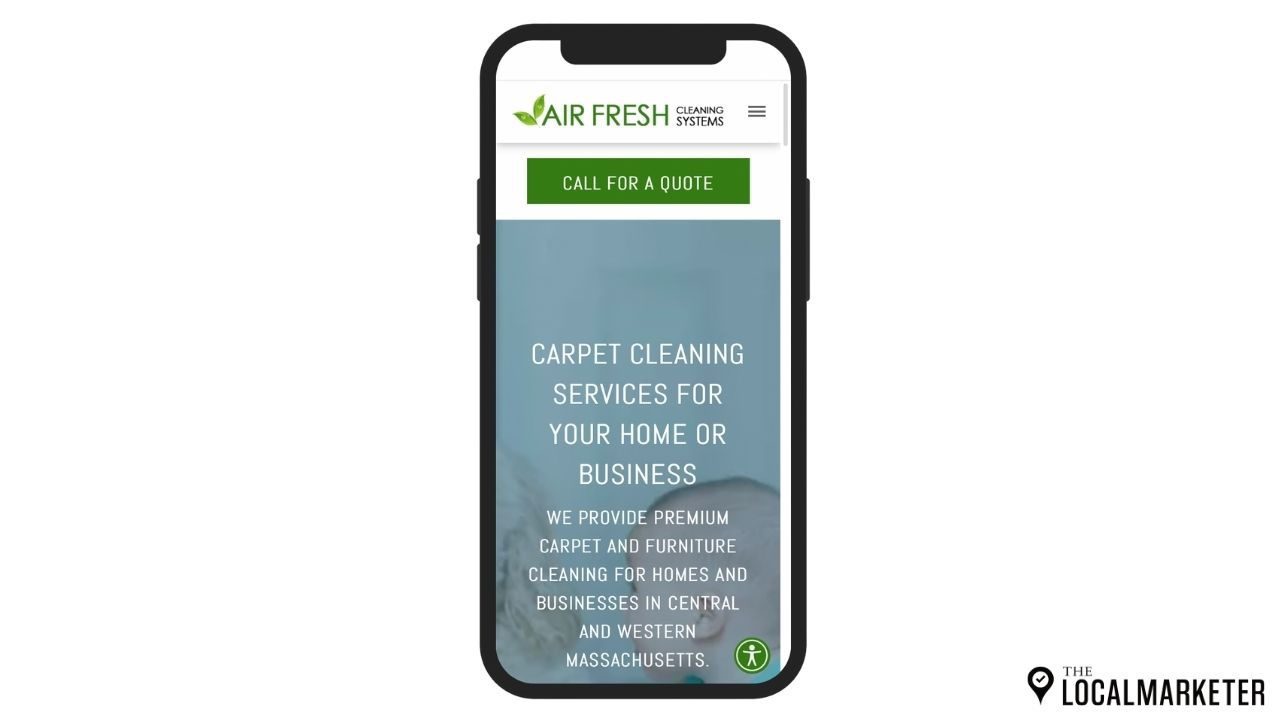 Improved Page Experience
I also worked to improve Air Fresh's Page Experience score. User experience is a critical factor helping a website rank in Google search, and in converting those visitors into customers.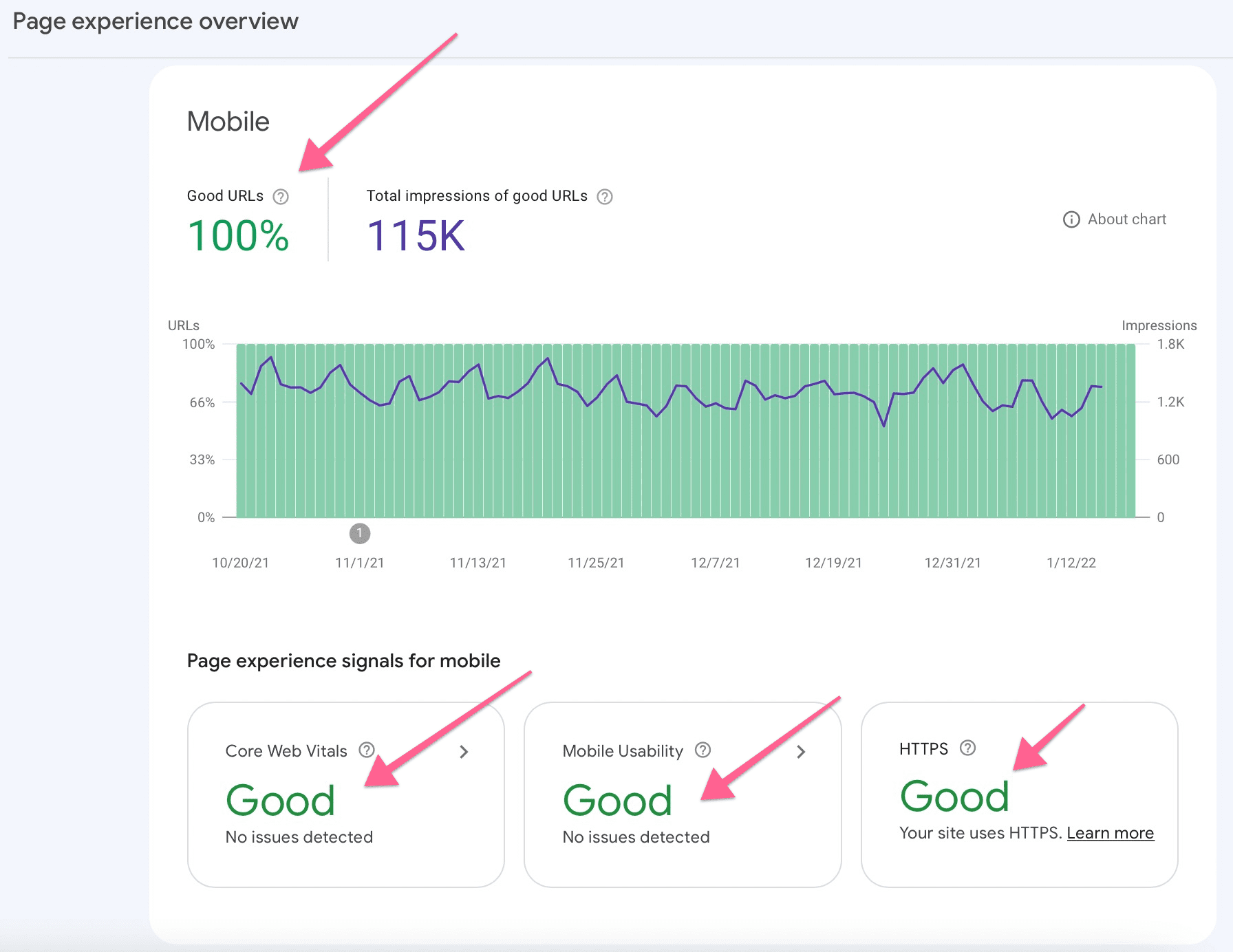 On Page SEO
During the redesign of their website, we made several local search on-page improvements that included the following.
Adding the phone number to the footer
Building internal links to every page
Create dedicated service area pages for surrounding towns
Enabling SSL security for all assets
Adding descriptive alt text to every image
Implementing local business schema markup
Focused keyword themes for each page
These are foundational website improvements that increase the website's visibility in local search.
Each change has the objective of increasing impressions, which leads to clicks, clicks lead to traffic, traffic leads to conversions, and conversions become customers.
Off Page SEO
Making improvements to the website are just part of the equation. There is also off-page SEO that requires building up links and providing consistent business information that gives Google and other search engines reliable data to index.
Fix Listings
Correcting the the business name, address, and phone number across business listings was key. Having accurate information about your business online improves local visibility.
One significant error was the business name showed as Airfresh, instead of Air Fresh.

The screenshot above shows the low number of listings they had. And how several of them had inaccurate information beyond their business name. In this case their phone number was  also incorrect.
Disavowing Bad Backlinks
When it comes to backlinks, there are SEO's who continue to debate whether to pursue a large quantity of backlinks or to get quality backlinks. I am grateful that John Mueller during one of the Google SEO Office Hours stream, answered this question specifically. Watch the video below for the answer.
For Air Fresh, I found several backlinks that were not generating any quality traffic, were completely irrelevant, and looked low quality or suspicious. Since Google will penalize you if those backlinks are paid for, it's sometimes best to disavow any backlinks that look suspicious.
To be clear, I don't normally recommend disavowing backlinks, but in this unique case, I believe it was a good thing to do.
Keyword Research
It's amazing to see how many subtopics can fall under the umbrella of carpet cleaning. Carpet cleaning sub-topics can include:
Indoor air quality
Allergies
Stain removal
Baking Soda uses
Room Deodorizers
Green Cleaning
Pet Odors
These subtopics can lead to long-tail keywords that are opportunities to rank higher and generate more organic traffic. When you rank for a wide range of related keywords, you broaden the scope of SERP appearances and potentially can capture more visitors and more customers.
Once Air Fresh decided to benefit from a local SEO campaign, I was able to find untapped search terms within the carpet cleaning vertical, while at the same time provide customers with valuable content.
Conclusion
Businesses like Air Fresh Cleaning Systems and others have seen month over month growth in revenue by increasing their organic traffic from Google. My goal is to continue to add value by providing quality local SEO and web design services so local businesses like yours can grow.
Are you interested in growing your business online? Have questions about how I helped Air Fresh? Schedule a call with me today!