The team at Pool Water Inc. in Sturbridge, Massachusetts reached out about creating a new website for their business. Their goal with the website is to appear in local search for customers across Central Massachusetts and Eastern Connecticut.
Local service business owners have a unique challenge in reaching a large service-area and don't always operate out of a physical location. That's where a well designed website can reach a large target audience when filled with great web copy.
The Need for a Website
Pool Water Inc. needed a new website built that would explain what services they offered, provide a way to captures leads, and attract local consumers by ranking in search.
Creating Web Copy
The web design project began with collecting information about the business, who their customer's were, and their unique value proposition. It look like there would not be a lot of opportunity to create content around pool water delivery.
After discussing the business in more detail, we were able to identify dozens of very practical situations where bulk water delivery solves a lot of problems.
For example, bulk water delivery can solve problems for pool owners, hot tub owners, obstacle course companies, equestrian sports organizers, backyard pond owners, koi fish owners, and so much more.
Choosing a Template
Once the briefs for the web copy were created and the content was written, it was time for Cole and his team to choose a design template. Templates are more of a framework for the design than an actual exact copy of the what the site will look like.
Once they reviewed the templates and chose which one they liked most, other elements like color scheme, fonts, logos, and other customizations would be added.
Pool Water Inc chose a template called Tattoo Studio. And as you can see the site has been transformed quite a bit.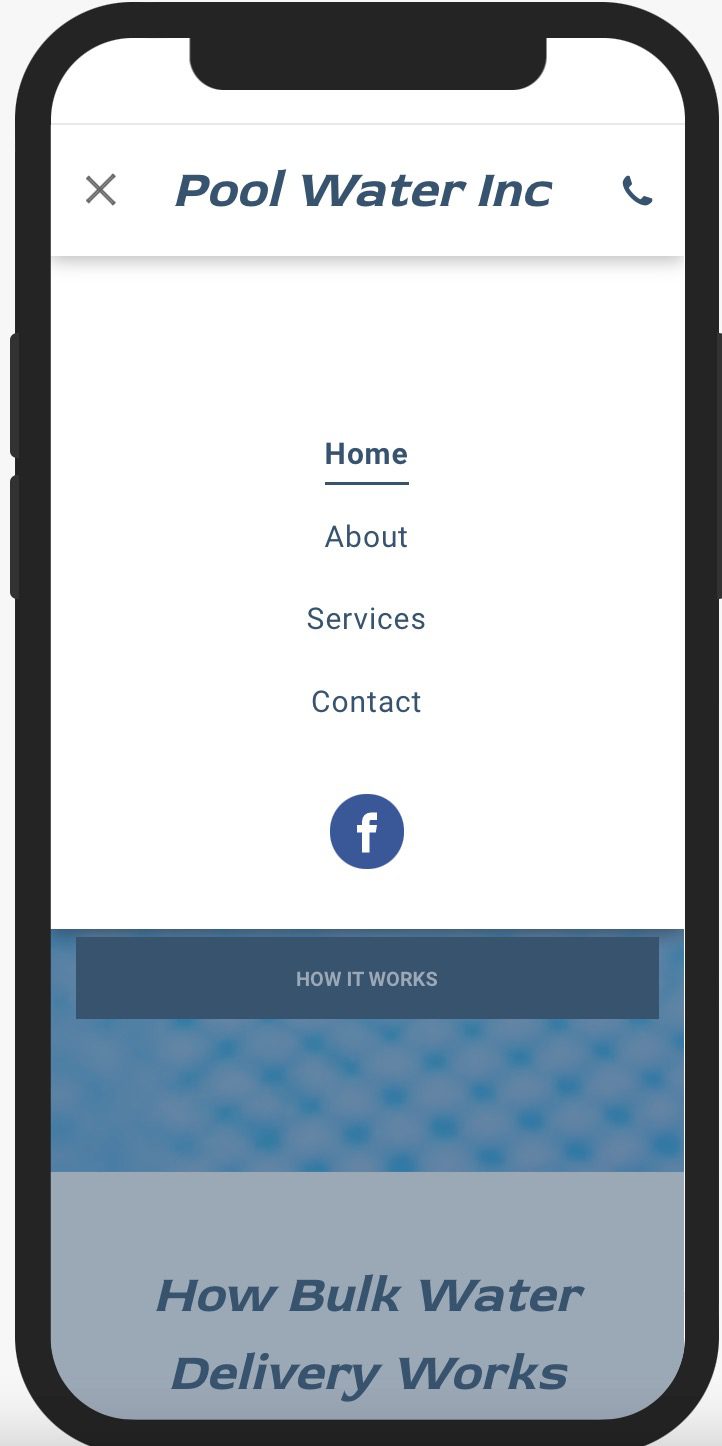 Call-to-action
It was decided that once a visitors reaches the site, the best call-to-action would be a contact form for now. There are plans for a future quote calculator using Calconic and online booking with CalendarHero in the future.
For now Pool Water Inc's contact information is clearly visible in both the header and the footer and a phone icon appears on mobile for easy access to click-to-call. This allows for people who are ready to buy to quickly contact them without hunting for information.
Post-Publishing Process
As with all web design projects, the new website includes setup and configuration of Google Analytics, Google Search Console, and Bing Webmaster Tools. 
These steps help make sure the new site is crawled and indexed, and reduces 400, and 500 errors for visitors who may have linked to them in the past. If you'd like to learn more about this project, please use the contact page.