Just because your website has been published doesn't mean it can be found in Google search. Unless you're trying to keep your website a secret, you will need to add your website Google Search Console to get your website listed on the world's top search engine.
Contents
Below are instructions on how to add your website to Google Search Console so you can:
Tell Google to crawl and index your website
Discover problems that Google has with your website
Find out what search terms people use to find your website
The benefits of this free SEO tool are worth every minute of your time. So let's get started!
How to Verify Your Website Is Added to Google
Even if you have never added your website to GSC, it is likely that Googlebot has discovered your website by following links on other websites.
Now if you're not familiar with what links or backlinks are, check out my post on 3 digital marketing ideas for your business. This will give you some quick tips on how to get your first backlinks.
Here are instructions on how to check if your website is on Google's search engine.
Go to google.com from a web browser
Type in the search field site:yourdomain.com

Make sure to use your actual domain and don't add https or www

Click search or hit enter
This search will show you how many pages from your website are part of Google's index. And this is where the results of all Google searches comes from.
If you see 0 results, then you know your website is not going to get found on Google's search engine. This is why adding your website to Google Search Console is so important.
If you do see results, take note of the number, as you want to make sure all the pages of your website are getting indexed, or that pages you want to stay hidden are not getting indexed.
Let's get started adding your website to Google Search Console.
How to Add Your Domain to Google Search Console
Login to GSC
Before you get started here are two things you will need access to.
A Google account

This account is free, but is required to use GSC

Your domain registrar account

This is where you purchased your domain (Example: godaddy.com or hover.com)
To add your website to Google Search Console go to https://google.com/webmasters and login with your Google account.
Add Property to GSC
Once you login, click the Get Started button and then the Go to Search Console button. This will bring you to the Add Property screen.
It is recommended when adding a property, to use the domain. Using a URL prefix will cause GSC to report traffic on different versions of your website.
For example, the http version of your website is different than an https, and a www version is different than the root domain. It is better to just cover all of the traffic by adding the root domain.
Once you add your domain, you will be prompted to verify that you own the domain by adding a TXT record to your DNS service provider.
Verify Your Property Domain
This verification process will make sure you are authorized to add and monitor the website.
Copy the TXT record and add it to your DNS configuration at your domain registrar. Here is a screenshot of what the record looks like in Hover.
Keep in mind your registrar may look completely different, so make sure to refer to their documentation.
After adding the TXT DNS record, it will take a few minutes for that information to propagate across DNS servers. This can take up to 48 hours, however, that has never been my experience.
Once the information propagates you will get a confirmation within Google Search Console.
Congratulations! 🎉
You have added your website to Google Search Console. Now you can begin using this tool to improve the visibility of your website on Google's search engine.
Submit Your Sitemap to Google
Now that your domain is added to Google Search Console, it is time to submit your sitemap to Google so they can begin indexing your site.
What is a sitemap?
A sitemap is, as the name suggests, a map of your entire website. The sitemap is stored on your website in an XML (eXtensible Markup Language) file.
Why submit my sitemap to GSC?
The reason to submit the sitemap to Google is to make sure their Googlebot can read and index the site. As mentioned before, unless you're trying to hide the website from visitors, you'll want to make sure people can find your site on Google.
On most websites, you can find your sitemap at your domain forward slash sitemap.xml. (Example: https://www.yourdomain.com/sitemap.xml)
If you cannot find your sitemap at that address then you can use a tool like SEO Site Checkup's Sitemap Test to find your sitemap.
Submit Sitemap to GSC
Once you have your sitemap address, you will want to add it to Google Search Console under the Sitemaps section.
After submitting your website's sitemap to Google Search Console, it will take sometime for your website to get read and indexed by Googlebot.
After a few days, you will begin to see new data appear in your console. This data can offer some great marketing insights into how your website is performing on Google and why it is performing the way it is.
Use Google Search Console to Improve Your Website
Google Search Console has a wealth of information to help you improve how your website performs on Google's search engine. There is so much to look at that it can be overwhelming.
Here are 3 places to find information about how to improve your website's performance on Google.
1: Coverage – How well Google can read your website
The coverage screen shows how well Google is able to index your website. Here you can see which pages have been indexed and discover any problems Google encountered when attempting to index your site.
In the screenshot below you will see how many pages have been indexed (valid), how many have not been indexed (Error), and a variety of other possible website issues both intentional and unintentional.
This is a great place to fix 500 and 400 type errors with your site and improve the overall coverage and index of your site.
2: Performance – How pages are performing on Google search
The performance report can display how many times your website appears in Google search, how many times it was clicked, and what position it held in the search engine results. Yes, it's true! Google Search Console is a free rank tracker.
Google Search Console lets you look at your best performing pages, and try to understand why they perform well. Over time you will begin to see patterns emerge, that will inform you on how to generate more organic traffic.
Improve underperforming pages by linking to them from the best performing pages. In a way, those pages can help lift other pages by letting more visitors discover them through your website.
Check out our LinkedIn post about internal linking below.
3: Core Web Vitals – How visitors experience your website
Google has confirmed that Core Web Vitals will become a ranking factor for Google's search results. Don't worry though, they are just a small portion of the hundreds of factors, so don't put all your eggs into this basket.
Read this tweet from Cyrus Shepard of Zyppy SEO reminding us to keep a good perspective of Core Web Vitals.
Because we're constantly reminded of Google's Core Web Vitals, a few reminders:

1. Google uses 100s of ranking signals
2. Most are TINY
3. Core Web Vitals impacts mobile rankings only
4. Even bad sites may not see a significant impact!
5. Analytics can show your mobile exposure pic.twitter.com/Ve5vxnaUbG

— Cyrus (@CyrusShepard) February 22, 2021
Core Web Vitals in GSC
The Core Web Vitals report will show how your website pages perform, based on real world field data. For example, the Mobile report is generated from mobile devices using mobile broadband internet speeds, not WIFI.
What you can discover in these reports is if specific pages of your website load very slowly, giving visitors a bad experience. This can explain why visitors leave your website (bounce) or why abandon your website when they reach this page.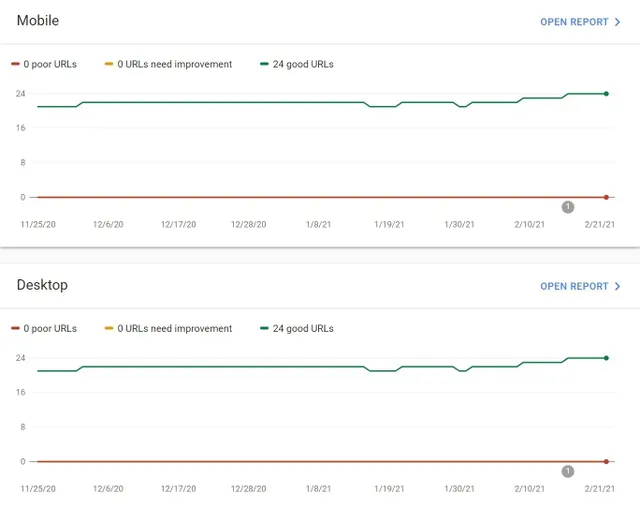 At the same time, Core Web Vital errors are certainly important to address, however, without setting up Google Search Console, you would not even know they were an issue.
Use Google Search Console to Maintain Your Website
Now that you've setup Google Search Console, submitted your sitemap, and started digging into reports to improve your website, remember to rinse and repeat.
Take a few minutes each month to review those errors and just pick one to fix. This is one aspect of Search Engine Optimization that can be hard to start, but over time, you'll get more and more comfortable.
Not Sure What's Next?
Setting up your website with Google Search Console, and Bing Webmaster tools is just the beginning. It's how you continue to use the tools that will improve your visibility online. Let's work together to reach the people who live, work in, and visit your community, and grow your business!
Want more local marketing insights? Yes, please!