Kringle Candle is a local retail and e-commerce business located in Bernardston, Massachusetts that I had the privilege of working with over the summer.
Their marketing objectives were to increase local and organic web traffic to their Shopify hosted eCommerce website, kringlecandle.com.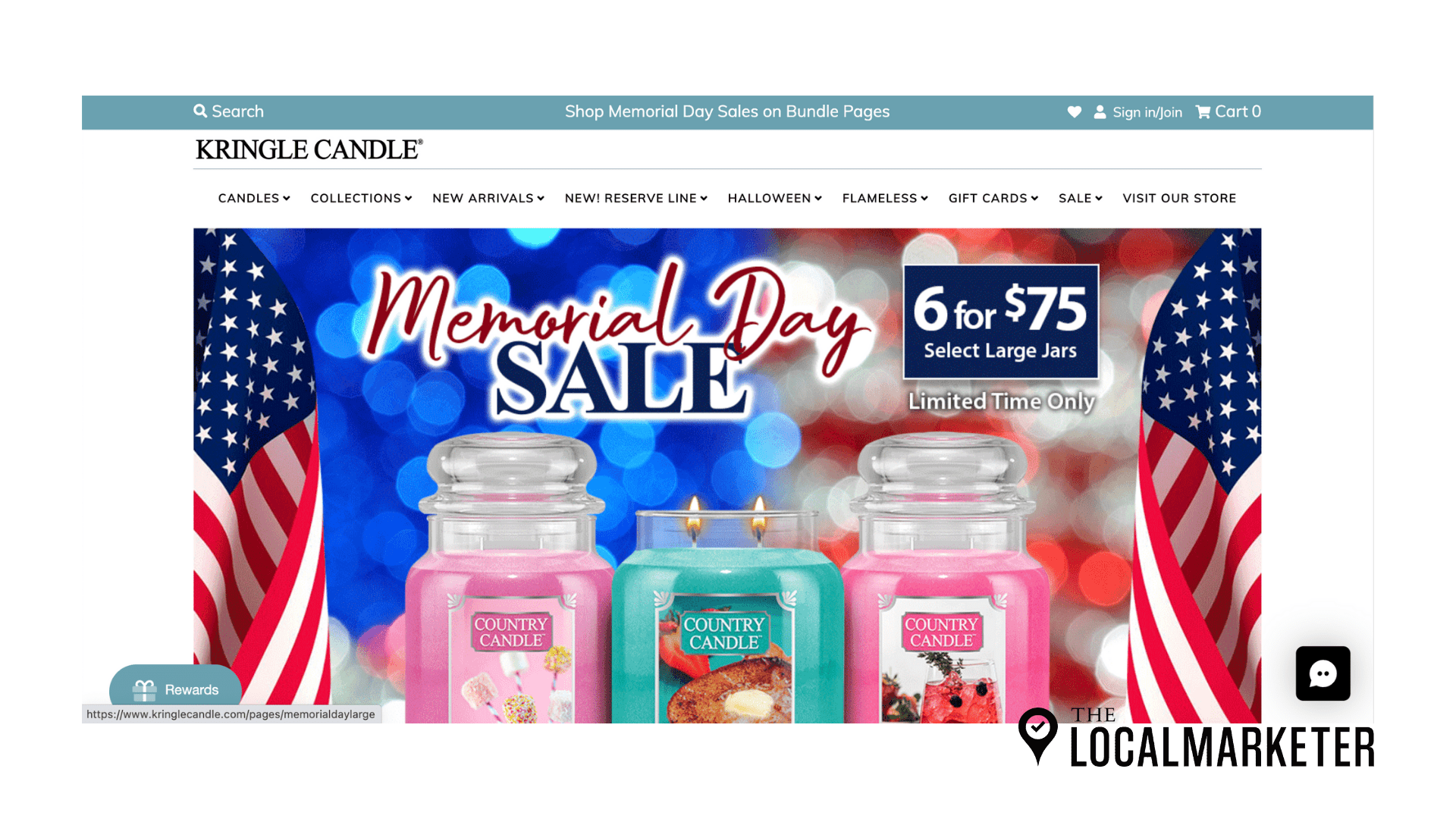 After auditing their website and looking at local search results, I was able to identify several opportunities for them to improve the quality of their pages for their visitors, and improve local visibility to attract visitors to their retail locations.
Working with their internal team, we created a system for how the following opportunities were going to be addressed during this summer project:
Update missing titles, descriptions, and alt text on hundreds of pages.
Create relevant content for blog, product, and collection pages.
Build internal links with relevant anchor text to dozens for orphaned pages.
Each challenge presented an opportunity to improve their website, and increase its visibility in local search. Here is what happened next.
Replaced Shopify's Auto-Generated Titles and Descriptions
Shopify is a very powerful eCommerce platform that is filled with powerful business building features. And they have built an ecosystem with flexibility to integrate and use 3rd party applications for email marketing, display advertising, fulfillment, and more.
One of these features is the ability to update Product and Collection Page Titles and Descriptions. However, if you don't manually edit those fields, Shopify will automagically (yes, that's right… auto-magically 🪄) fill them with the first few sentences found in the page content.
This can be ideal for some eCommerce stores, but for Kringle Candle, it was important to build Titles and Descriptions that better explain what the page is all about.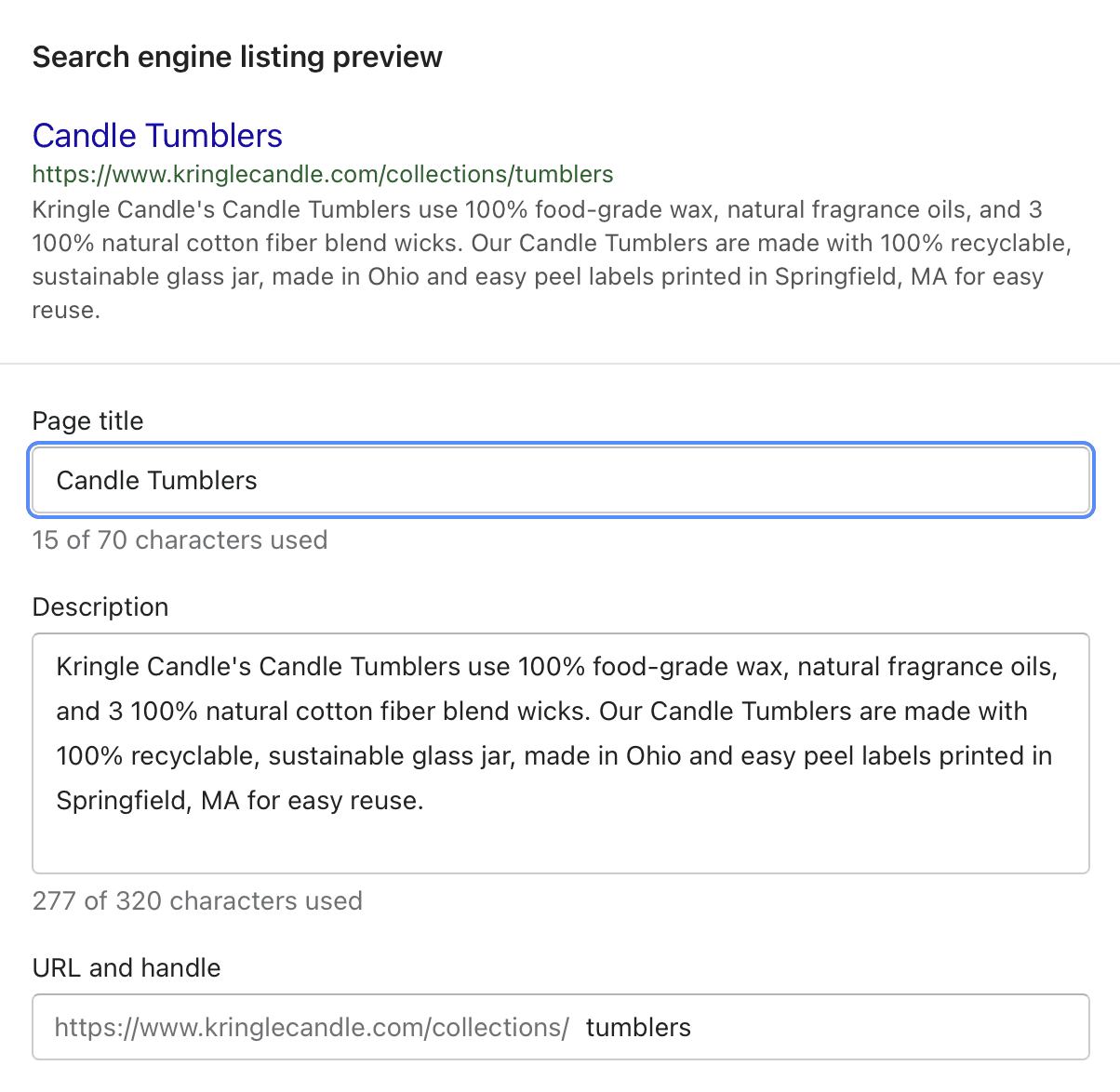 After this was discovered, some training was done to help identify and fix these pages, and a new process was put in place to ensure that each new product or collection page included a descriptive Title and Description that targeted a keyword theme.
Create Relevant Content for Each Page
Kringle Candle's website has a very large amount of product and collection pages. There are thousands of pages to crawl and review. Unfortunately, the after crawling the product pages I discovered that many of them were missing detailed product descriptions.
Even the collection pages were simply long lists of assigned or tagged products with no relevant content to describe the collection or category of products.
This gave us the  opportunity to begin creating relevant content for each product and category page that described in detail, what a visitor can expect to find on each page. This content needed to be descriptive but succinct, allowing for visitors to scan the copy and know exactly what they'll find on the page.
This idea of succinct and descriptive copy for product, category, and collection pages was recently discussed by John Mueller of Google. He advised that collection or category pages, should not be long-winded articles. Here is his response to a question about content on category/collection pages during one of Google's SEO Office Hours:
A little bit of content I think is always useful but it's not the case that you need to turn it into, kind of, an article about that kind of content. So a little bit of content is useful in the sense that we have a little bit more context of the the articles that you're listening there. So that always makes a little bit of sense.

– John Mueller, Google SEO Office Hours, September 2021
And here's a video clip where he expands even further.
This opportunity allowed for Kringle Candle to expand the content on both product and collection pages that targeted a keyword theme, and further explain what the page was about.
You can see an example of this on their Kringle Candle Collection page in the screenshot below.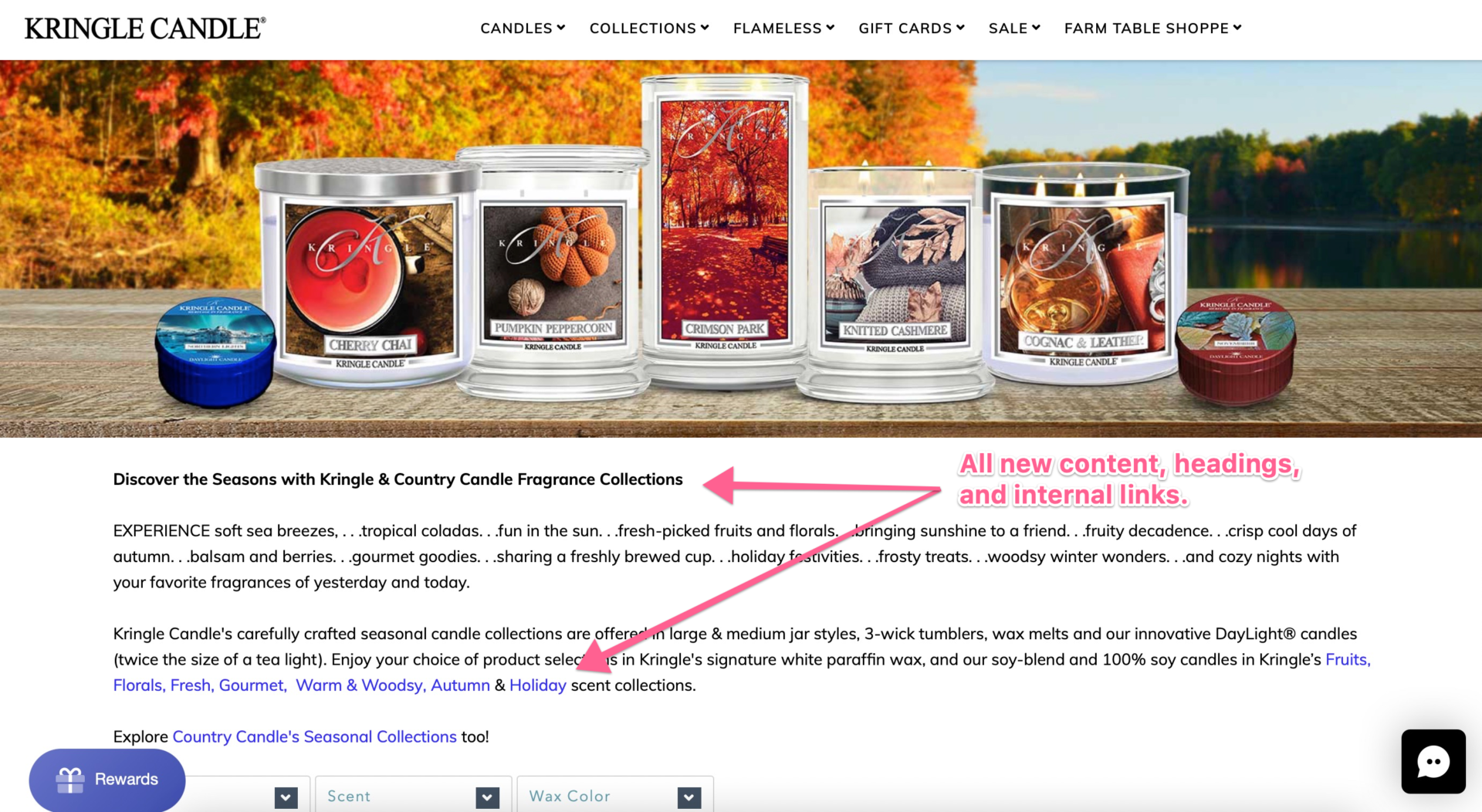 Find Ways to Build Internal Links
As content was added to each page, links were added to give visitors more chances to discover what other products Kringle Candle offered.
Especially when it came to collection pages where the visitor may be interested in similar scents, or in different versions of the same products.
As part of the continued training with Kringle Candle's marketing team, the focus was to include relevant links, with accurate anchor texts, that would invite the visitor to discover more of what Kringle Candle had to offer.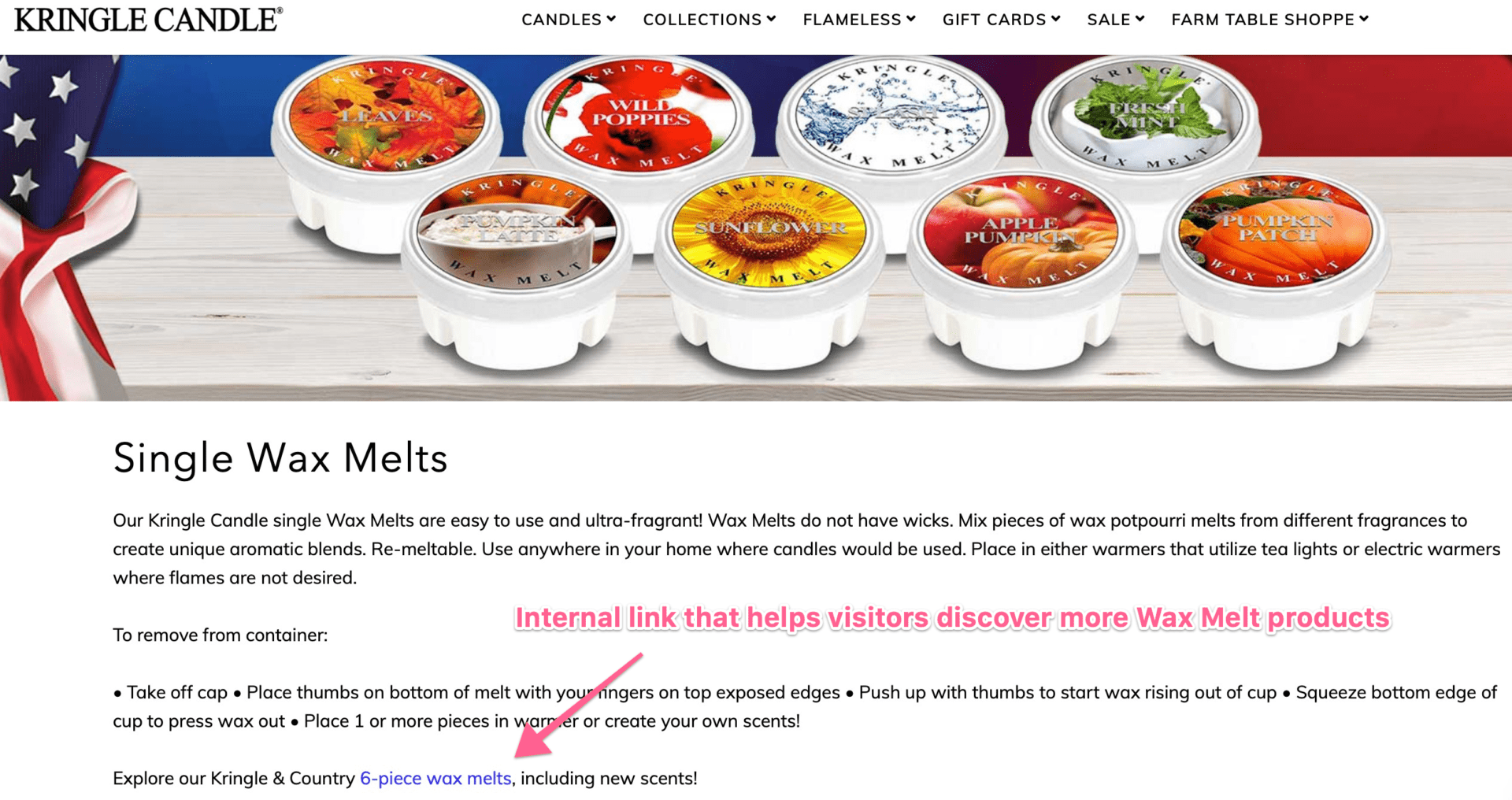 Results
This project lasted 3 months and resulted in organic traffic growing from 15k to 19k organic visitors all from local visitors in New Hampshire, Connecticut, and Massachusetts.
Local search improvements included:
Updating title tags and descriptions with city + state on the home page, about page, and contact pages.
Adding internal links to location pages using anchor text that included the retail store's physical location.
Targeted relevant keywords for the product and location like 'Western Massachusetts'.
Overall the improvements to the quality of the content, and the experience for their visitors, resulted in more local organic traffic, and an increase in revenue online from local shoppers, despite being such a short project.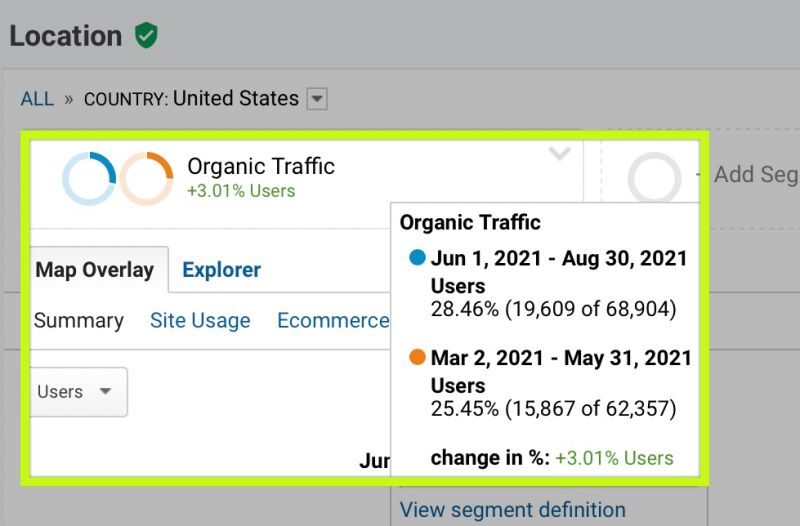 What brought Kringle Candle the most value is the training and process of how to improve their website's quality, and think about how to attract local organic traffic. And today, those processes are in place and continuing to help the business grow.
If you have any questions about this project, or would like to know more, please leave a comment or visit the contact page.