It's not enough to just have a website for your business–your site must use the fundamentals of good website design in mind in order to be effective and become a lead-generating machine for your business.
Get ready and take notes as you'll want to make sure your website meets these 5 minimum requirements for good website design.
Why Good Website Design is Key
If your business doesn't have a website, you're missing out on an effective and affordable opportunity to capture more customers online.
You're also leaving potential customers hunting to find you on business listing sites or social networks where they have to combat ads from your competitors in order to find you.
So if you're working on shaping your brand through your own website, keep reading as I cover five essentials of good business website design.
Good Website Design is Mobile Friendly
If your website is not mobile friendly, you're not servicing your customers well. According to Statista, approximately 51.98% of internet traffic, as of January 2020, comes from mobile devices.
This means that not having a website that isn't as functional on a mobile device as it is on a computer, can be detrimental to your potential business. Google is also indexing and preferring mobile optimized sites in their results, so for SEO purposes, this is a must.
Don't believe me? Look at the image of Google Search Console below showing the performance boost one my customers received by simply updating their website to mobile-friendly theme.
Good Web Design Uses Clear Copy
When Twitter introduced the concept of getting a message across in 140 (now 280) characters, many people became aware of just how important it is to be brief and make your point. No one wants to read through unnecessary fluff to find out what it is you do or sell.
Your website must be easy to read, have short paragraphs, highlight important points and most importantly, grab the readers attention.
Your opening title should avoid jargon, address your target audience, and deliver the solution and all its benefits. Think of this as your elevator speech where you have less than 10 seconds to share.
Good Elevator Pitch Includes
What you do (product or service)
For whom (people, demographic, location)
Why it matters (benefits, solution, relief)
If a person can't determine what your business is about immediately from your website, then you'll want to rethink your content, and simplify your core offering so visitors can quickly understand it.
Good Web Design Avoids Vague CTAs
There's nothing worse than going to a business' website and finding how to reach them or purchase their product or service. A good rule of thumb is to avoid making it difficult for your visitors to become customers. This starts with good site navigation and a clear Call-To-Action (CTA).
Try having a single call-to-action or CTA per page, and make it visually prominent using colors, buttons or icons. Make sure the CTA is be clear and compelling, and not misleading or vague.
For example a CTA like, "Click Here", tells the visitor nothing. Instead use action words that describe exactly what the visitor will experience.
Alternative CTAs
Call now (Great for mobile users)
Book an appointment (Use a scheduling app like CalendarHero)
Send a message (Use a link to Email or SMS)
Request a quote (Use a form to get more information)
Start a trial (Free trials offer a taste of your product)
Chat with someone (Online chat offers quick engagement)
Good Web Design Knows Fonts Matter
The font(s) you decide to use on your website matter a great deal. You can have some of the most profound content in the world on your website, but if the typography is unreadable, the message will fall flat.
Think of your font as the 'language' of your message. If you can't interpret the language, the message doesn't get delivered. Remember that the type of font, serif or sans-serif, the color, weight and size all matter. A thin neon colored font on a white background are never a great combination.
Moreover web friendly fonts perform better for faster website loading speeds, especially on mobile devices and are more compatible across browsers and devices.
Web Safe Cursive Fonts
Segoe script
Rage
Script MT
Snell Roundhand
Lucida Handwriting
Web Safe Sans Serif Fonts
Arial
Calibri
Candara
Century Gothic
Consolas
Dejavu Sans
Franklin Gothic
Gill Sans
Helvetica
Lucida Sans
MS Sans Serif
Neue Helvetica
Optima
Segoe UI
Tahoma
Trebuchet MS
Verdana
Good Web Design is Careful About Visuals
Generally speaking, most humans can interpret visual queues. You see it in the signage used on every street and in every building. The colors, icons, and images we see, tell us what to do, where to go, and how we should behave.
Humans also love being able to look at videos and images that tell a story. Since that's the case, make sure you include them on your website as long as they help tell the story of what your business and brand is about.
Likewise it is important to have the images or video represent the end result or the benefit of doing business with you. This includes using real video and real photos whenever possible as part of your visual marketing strategy.
Follow These Tips
Avoid stock photos when possible
Use simple and recognizable icons

Use the Noun Project to download icons that are recognizable.

Stick to a simple color palette

Canva has a great color palette generator you can use for free. Upload a photo or logo that has the colors you want, and they'll create a color palette for you.
Good Web Design Builds Trust
Your business website should compel a visitor to engage your business, and one of the main reasons that someone won't engage is lack of trust.
Give visitors a reason to trust your products and services by appealing to their intellect. Provide ample evidence for your claims, and give examples of the service or products benefits. This can be done by showcasing testimonies of past and current customers, writing helpful blog posts, or addressing common objections directly in your copy.
Before and After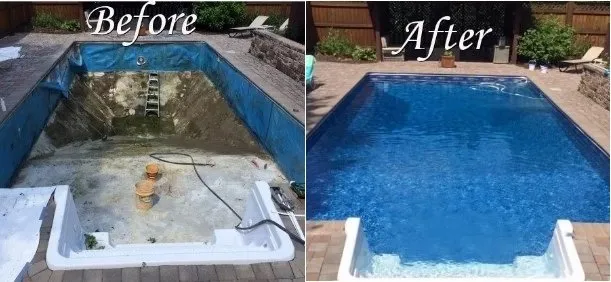 Showcasing real reviews across every page of your website is also key. Try and match the reviews to the product or service that the page is about.
Another way to build trust is to fill your site with real (not stock) photos of recent customers. Revealing the end result of using your product or service is another way to build confidence in what you claim for the consumer.
---
Good Website Design Principles
To say nothing of important factors like SSL certificates, optimized images, quality fast hosting, and content delivery networks, would be a mistake. However, today's web builders and hosting providers like Wix, Squarespace, and Duda, address those requirements by default. That's why we chose to address the front-end or customer-facing aspects of good website design.
Remember, your business website is not about you, it is about your customers. If you don't quite have experience with business website design, don't worry, we can help.
Do you agree? Did we miss anything? Send us your feedback or reach out to ask a question.
Want more local marketing insights? Yes, please!